Our menus have a new look!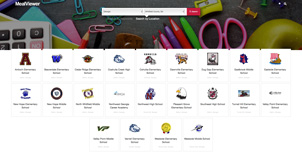 Use the MealViewer to find Cohutta Elementary School's menus
with information about nutrition and allergens.
Apps are also available for iOS (link)
and Android (link).
Breakfast is served beginning at 7:00 a.m.
Lunch is served 10:30 a.m. until 12:00 p.m.
Students are given the choice of a hot lunch or salad/yogurt plate.
Student Breakfast - Free
Student Lunch- $2.00
Adult Breakfast - $1.75
Adult Lunch - $3.00
*Reduced Lunch - $0.40
*To find out if you qualify for free and/or reduced prices, fill out a free and reduced lunch form and return it to the cafeteria or go online and register at www.lunchapplication.com.

Please make checks payable to:
Whitfield County Board of Education/Cohutta
NO-NO LUNCH ITEMS...
CARBONATED BEVERAGES
FAST FOOD ITEMS IN THE ORIGINAL CONTAINER
Parents are invited and encouraged to visit the school and eat with their children. Please call the school office to make reservations.
Sign-up for online cafeteria balance updates and online payment at: